It's finally time to bring home Wakanda and throw a Black Panther Movie Night! Being at the Black Panther world premiere was such a spectacular event and I couldn't wait to share the film with my friends. Marvel did such a great job with the special effects, heart-pounding action sequences and a touch of humor. It was the third biggest movie of all time domestically with over $665 million. Now, audiences can bring home the action because Black Panther is available DIGITALLY ON MAY 8 AND BLU-RAY ON MAY 15!
I got the chance to preview the bonus features and throw a Black Panther party at the house. I'm sharing some of my favorite touches from our movie night and how you can download your own Black Panther bingo cards. Cheers to another Marvel movie for our collection!
Tips for a Black Panther Movie Night
Set the Mood
Throwing a themed movie night is all about a cozy spot, snacks, activities and the a great way to watch the movie. The weather is warming up, so you might want to consider an outdoor movie night. I like to make it a date night after the kids go to bed. We set up a snuggle spot with our Black Panther Fleece Blanket, on the couch.
Make Some Snacks
Is it even possible to throw a movie night without popcorn? Nope. Pop some popcorn and make some delicious treats to enjoy together. It's more fun if you can theme your food and drinks around the movie too. This Black Panther Kinetic Cocktail is delicious and you can't go wrong with adding a touch of sweet to your popcorn with this Killmonger Popcorn recipe. I like to save time and go store-bought (#NoGuiltHere). Check out the cute cupcakes I pick up for our Black Panther movie night!
Play Some Games
If you've seen the movie a million times already, then you know how awesome it is. If you haven't seen it yet, check out my Black Panther Movie Review. Take your movie watching to the next level with these fun Marvel Black Panther Bingo Cards. Just click on the image below, download your cards and play together.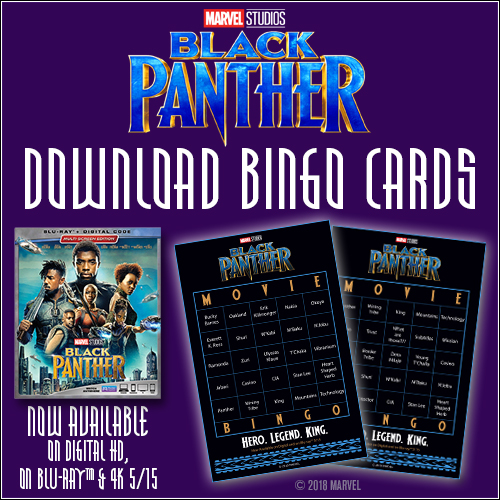 Black Panther Bonus Material
Blu-ray:
Director's Intro
From Page to Screen: A Roundtable Discussion – Delve into the film's making
Crowning of a New King – Explore the world of "Black Panther" in all its color and complexity
The Warriors Within – Get to know Wakanda's women and the actors who portray them
The Hidden Kingdom Revealed – Wakanda's diverse people
Wakanda Revealed: Exploring the Technology
Deleted Scenes

U.N. Meet and Greet
Okoye And W'Kabi Discuss the Future of Wakanda
T'Challa Remembers His Father
Voices from the Past

Gag Reel
Exclusive Sneak Peek at "Ant-Man and The Wasp"
Marvel Studios the First Ten Years: Connecting the Universe
Director's Commentary
Digital Exclusives:
In World Wakanda Tourism Ads

Come to Wakanda "Before"
Come to Wakanda "After"
Follow Black Panther on Social Media: